Choose Proper Mosquito Coils, Help Us Rest Better
Blog 2017-09-22 22:33:25 aogrand 2305
The most effective components of mosquito coils (0.2% to 0.4%) are pyrethrin insecticides. Such chemical compositions are mainly derived from plant pyrethrum, which, after national monitoring, should be considered safe. However, if there is a family of children and old people in the home, it is best to avoid using this type of burning coil repellent incense. Because this type of mosquito repellent is burning, it produces smoke that can enter the lungs and stay in the lungs, which can trigger asthma in the short term and can lead to cancer in the long term. ARROW Non-Smoke Mosquito Coil is a new type of
mosquito coils
. It is burning without any smoke. As a mosquito coil wholesaler, we will talk about how to tell whether the mosquito coil contains harmful substances.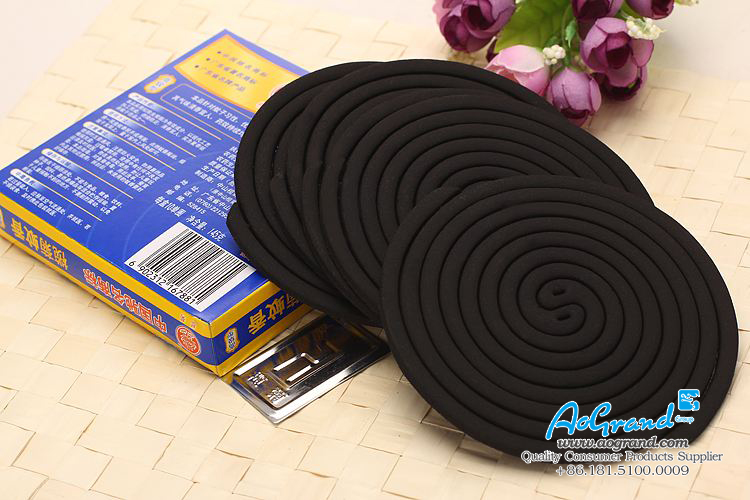 1. Distinguish from the appearance. The safety of the mosquito coil is fine, the color is uniform, the anti-folding force is strong, and the time of ignition is about 7 to 8 hours. If the surface of the mosquito coil is rough, the structure is loose, and there are large particles of impurity DDT. There are large particles of impurity DDT crystals in fine end, easy to break, or can not reach the point of ignition time. 2. Smell the fragrance. Chinese herbal medicine, pyrethrum mosquito-repellent incense is ignited, the smoke is not thick, people can smell a natural fragrance, no pungent, giddy feeling; And DDT mosquito-repellent incense in the opening of the packaging and the ignition point process, has the flavor of the camphor ball, the person has long felt giddy. 3. Distinguish from the smoke. Use a match to ignite a mosquito coil incense, pure pyrethrum mosquito-repellent incense only yellow flame and blue and white smoke, while poisonous mosquito-repellent incense burning with green flame and black smoke. 4. Discrimination from mosquito – coil ash. The ash is white and gray after the burning point of pyrethrum. The ash of the poisonous mosquito coil is black. 5. Analysis of pest control effect. Mosquito repellent incense is obvious to mosquitoes, and it is not easy to see the mosquitoes fly after lighting. And poisonous mosquito coil incense after ignition, the effect is not as good as pyrethrin.
*if you did not receive our reply within 24hrs, please resend to our alternative email: [email protected], or call +86-181.5100.0009 directly.
We will never, ever spam you – nor sell, trade, or transfer your email to anyone else.